26.06.2019:
Neuer Fachbeitrag über smart medication™ von Dr. Andreas Rösch und Dr. David Schmoldt auf der VDE Expertenplattform für Medical Software!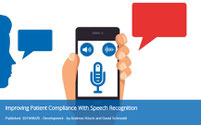 "Electronic Diaries and the Problem of Patient Compliance
Electronic diaries on smartphones are enjoying increasing popularity among health apps. Whether it is a calorie diary for the treatment of obesity or a diary for the telemonitoring of a rare chronic disease. The only problem: Patients use the app in the first weeks as planned. However, over time interest and consequently patient compliance decrease. Thus, the diary loses the quality required for monitoring by the doctor. A major reason for poor compliance is often the cumbersome keyboard entry via the smartphone app. Just a few clicks, for recurring diary entries, demotivate the patients. For example, many patients consider the login with username and password to be "too cumbersome" in the long run. Patients demand a maximum of ease of use. Therefore, usability is a critical success factor for electronic diaries."
Den kompletten Artikel können Sie hier lesen.